Pallet Tape for Supply Chain Logistics
Tamper evidence
Designed for the future
Tamper evident pallet tape is of utmost importance in the cosmetics and beauty market to ensure product safety and authenticity throughout the supply chain.
By providing a visible indication of tamper protection, it safeguards beauty products during transportation and storage
With over 5 Billion pallets in use worldwide, the theft problem of goods moving on these pallets isn't getting smaller.
Our specialised tamper evident pallet tape ensures the utmost security for palletised shipments, preventing contamination and unauthorised access.
With its durable construction and reliable performance, you can trust our pallet tape to maintain product integrity even in the harshest conditions. 
Tamper-evident pallet tape is of paramount importance in the cosmetics and beauty market to secure large shipments and protect valuable products. Instilling consumer confidence and safeguarding your brand's reputation against tampering and theft.
Discover more today!
Discover the ultimate solution for securing your beauty and cosmetics shipments with our tamper evident pallet secure tape.
Visible indicators immediately reveal any tampering attempts, ensuring your valuable goods remain intact throughout the supply chain, bolstering customer confidence and brand reputation.
Traceability and efficiency are enhanced with inbuilt numbering, custom barcodes, and QR codes, enabling seamless tracking and inventory management.
With various roll lengths available, our tape flexibly fits your existing processes and pallet sizes, reducing waste and optimising packaging operations.
Once applied, our tamper evident tape cannot be reapplied, providing a powerful deterrent against unauthorised access or tampering, reinforcing the security of your palletised products within the supply chain.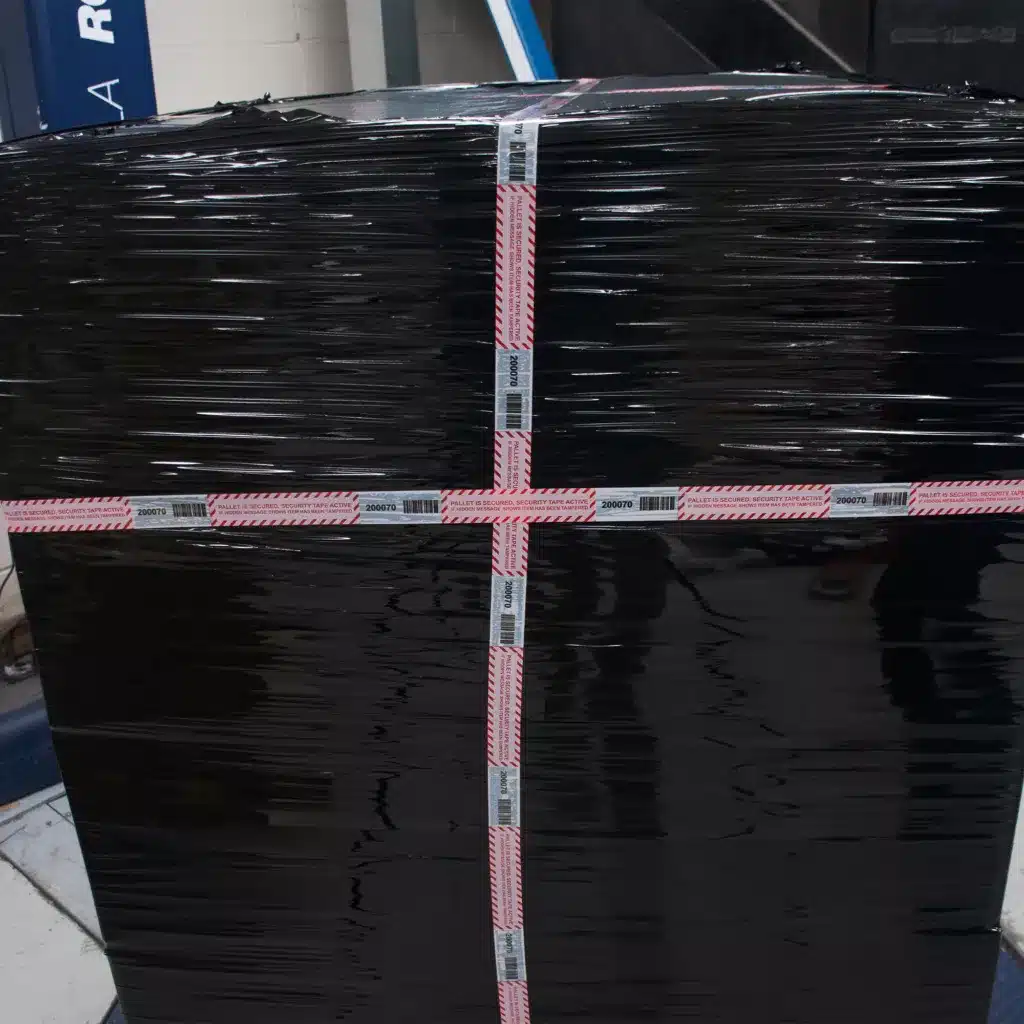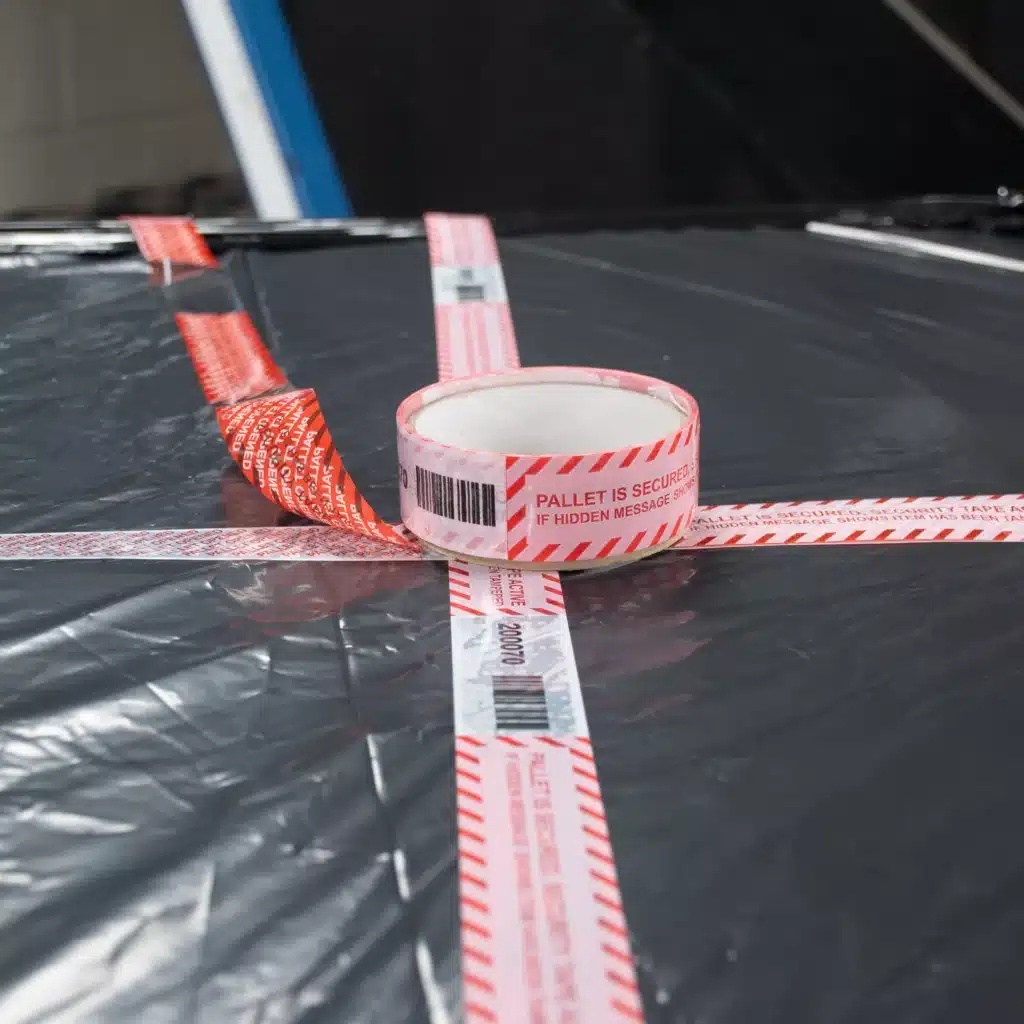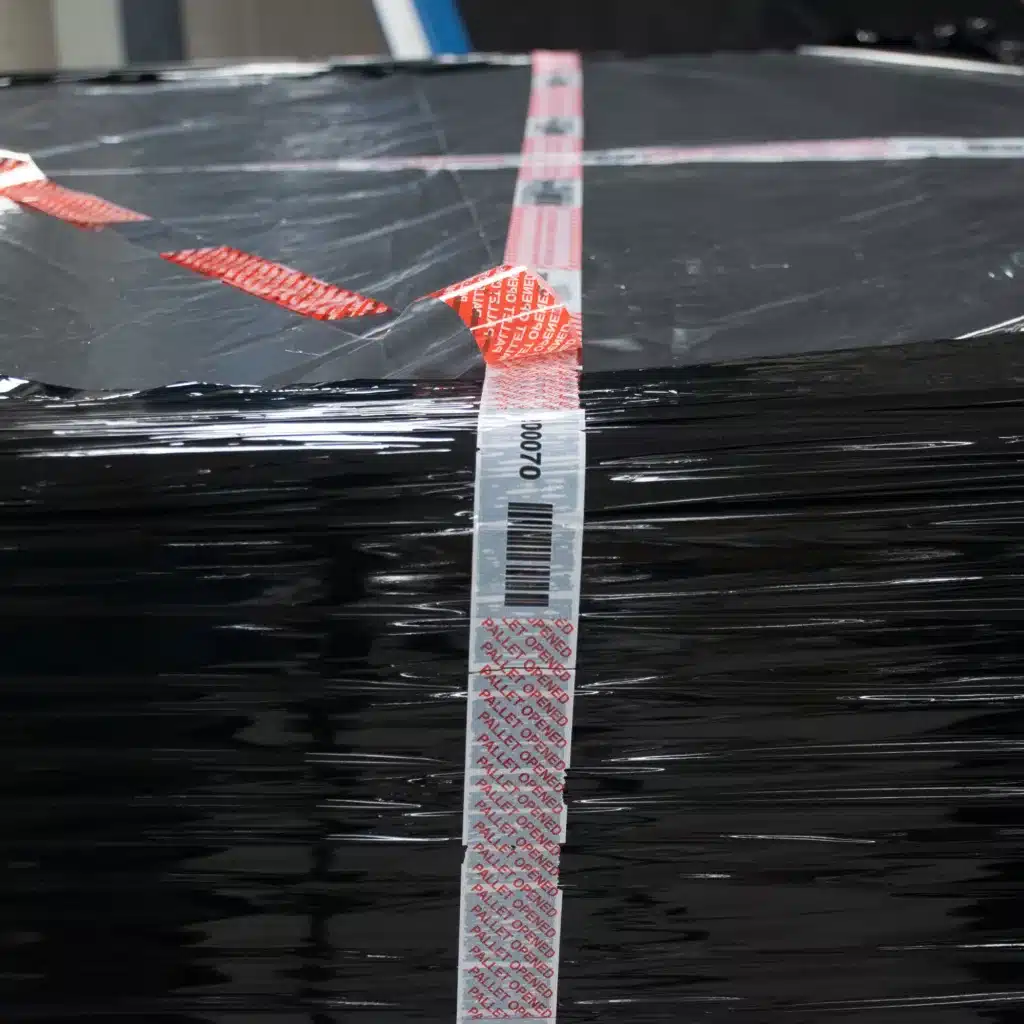 Integrates into Your Processes
We take supply chain security to the next level with our tamper-evident pallet secure tape. With a clear and bold "Pallet Secured Security Tape Active" surface message, it ensures that your Standard Operating Procedure (SOP) is crystal clear to everyone involved in the shipping process. The tape's permanent custom security message leaves no room for ambiguity, making it evident that your shipments are protected with the highest level of security.
The tape's tamper-evident features provide customs officials with immediate assurance that the pallets have not been tampered with during transportation. This visual proof of tamper-resistance expedites customs checks, enabling smoother and faster clearance processes. 
Additionally, our tape's exceptional performance at extreme cold temperatures, withstanding chilling conditions as low as -80 degrees Celsius, ensures that your shipments remain secure and uncompromised even in the harshest environments. With our Pallet Secure Tape, you can confidently navigate customs protocols and preserve the integrity of your cargo, delivering peace of mind and reliability to your international logistics operations.
Designed to work instantly, our tamper evident pallet secure tape adheres seamlessly to all types of pallet wrap materials, providing a hassle-free and efficient application process. Safeguarding your supply chain every step of the way.
 Click below to order now and protect your pallets!
Ready to elevate to real tamper evident pallet security?
Contact us today and discover the unmatched protection of tamper-evident pallet secure tape.
Let's secure your temperature controlled supply chain together!