Tamper Evident  Tool Trolley Labels
Tamper evidence
Designed for the future
Non residue tamper evident label with security cuts, a powerful security solution for tool trolleys in the workplace.
This innovative label provides a double-layered defense against tampering attempts.
Its unique security cuts leave visible evidence if someone tries to remove or manipulate the label.
Moreover, the non-residue adhesive ensures that the label cannot be reapplied once removed, enhancing its tamper-proof capabilities.
By using these labels on tool trolleys, businesses can protect valuable equipment and tools, deter theft and unauthorised access, and promote a safer work environment. The tamper evident features instill confidence in employees, assuring them of the tools' authenticity and integrity.
Dicover our range today!
Non-residue tamper evident labels are designed to leave no adhesive residue or marks when removed, providing a clean and professional appearance.
These labels are commonly used in situations where residue-free removal is desired, such as on painted and metal surfaces. They offer the same tamper evident properties as permanent self adhesive labels, providing visible evidence of tampering or unauthorised access.
The non-residue feature ensures that when the label is removed, no sticky residue is left behind, maintaining the integrity of the labeled surface.
Non-residue tamper-evident labels provide both security and aesthetics, making them an ideal choice for tool trolleys where cleanliness and visual appeal are crucial.
Non residue labels from Tampertech with security cuts can help to increase the security of packages by making it more difficult for them to be tampered with.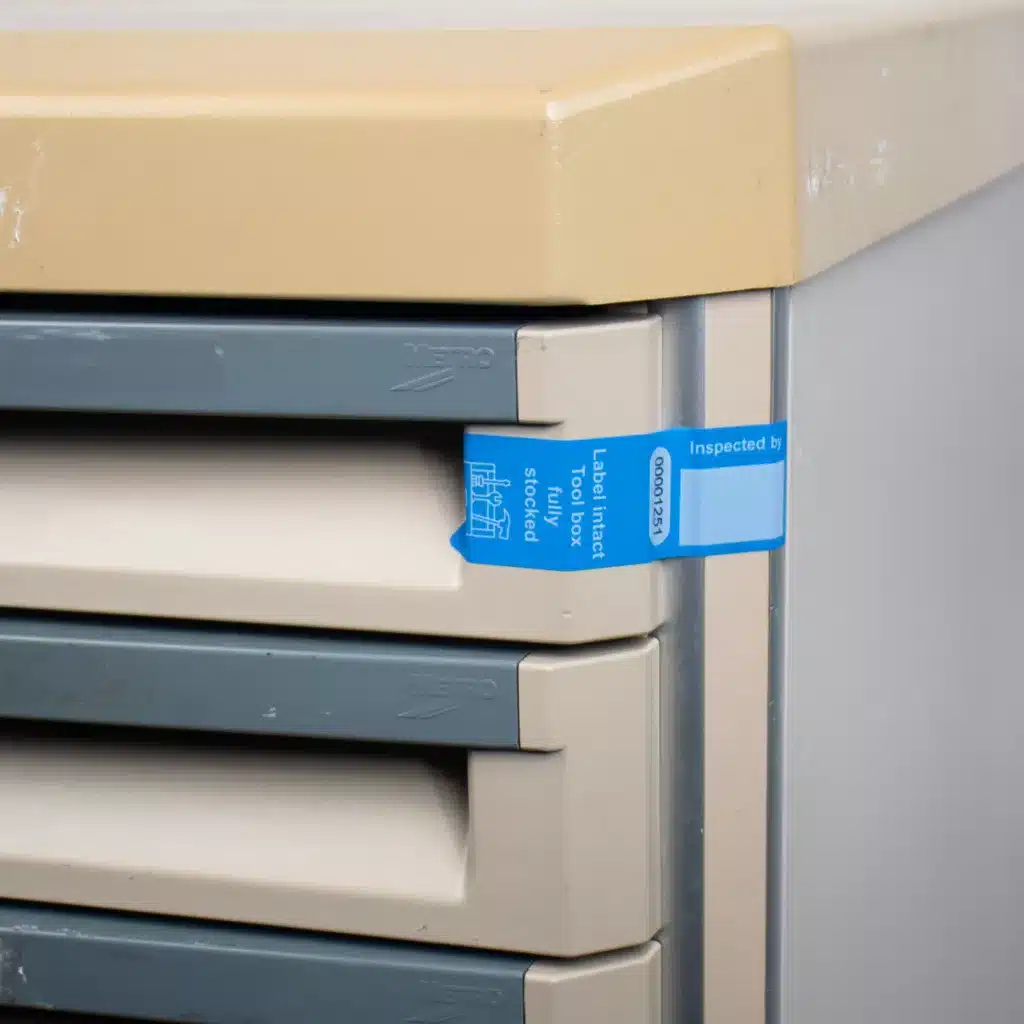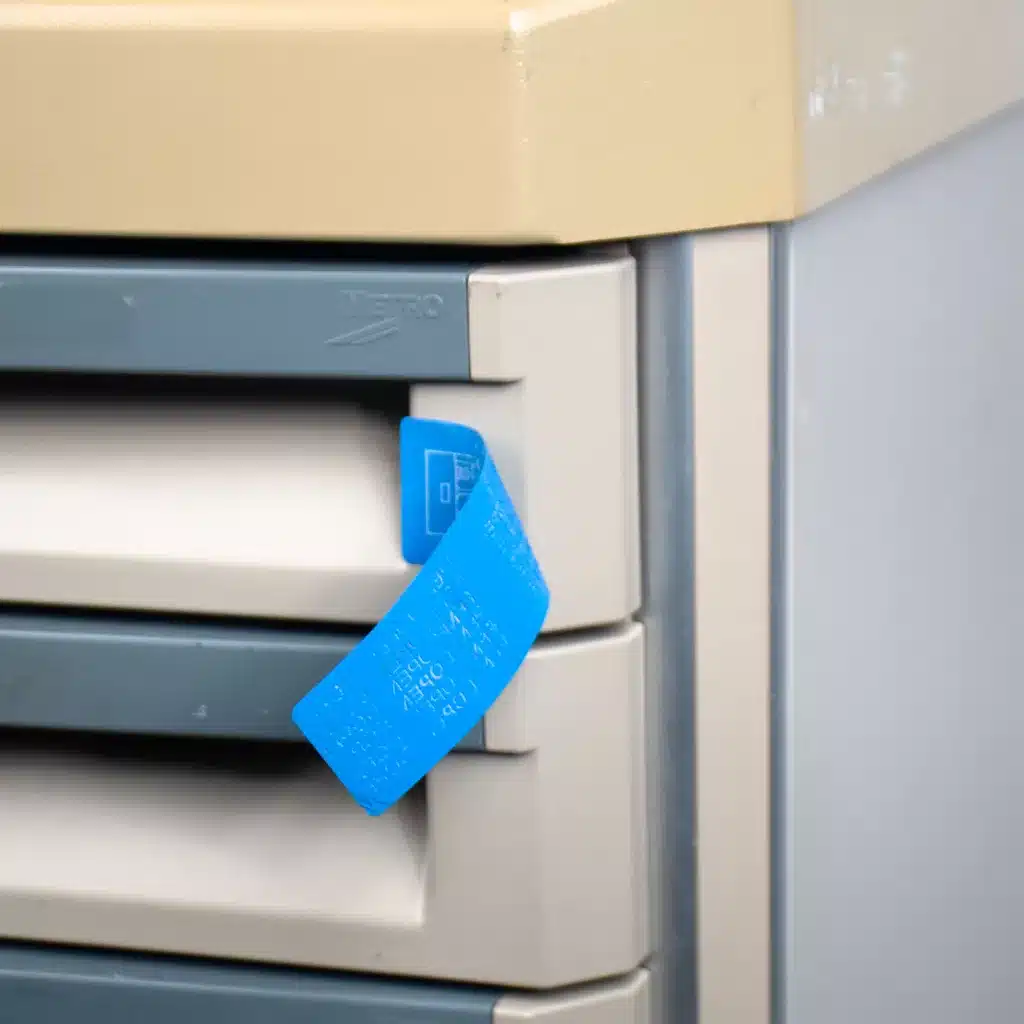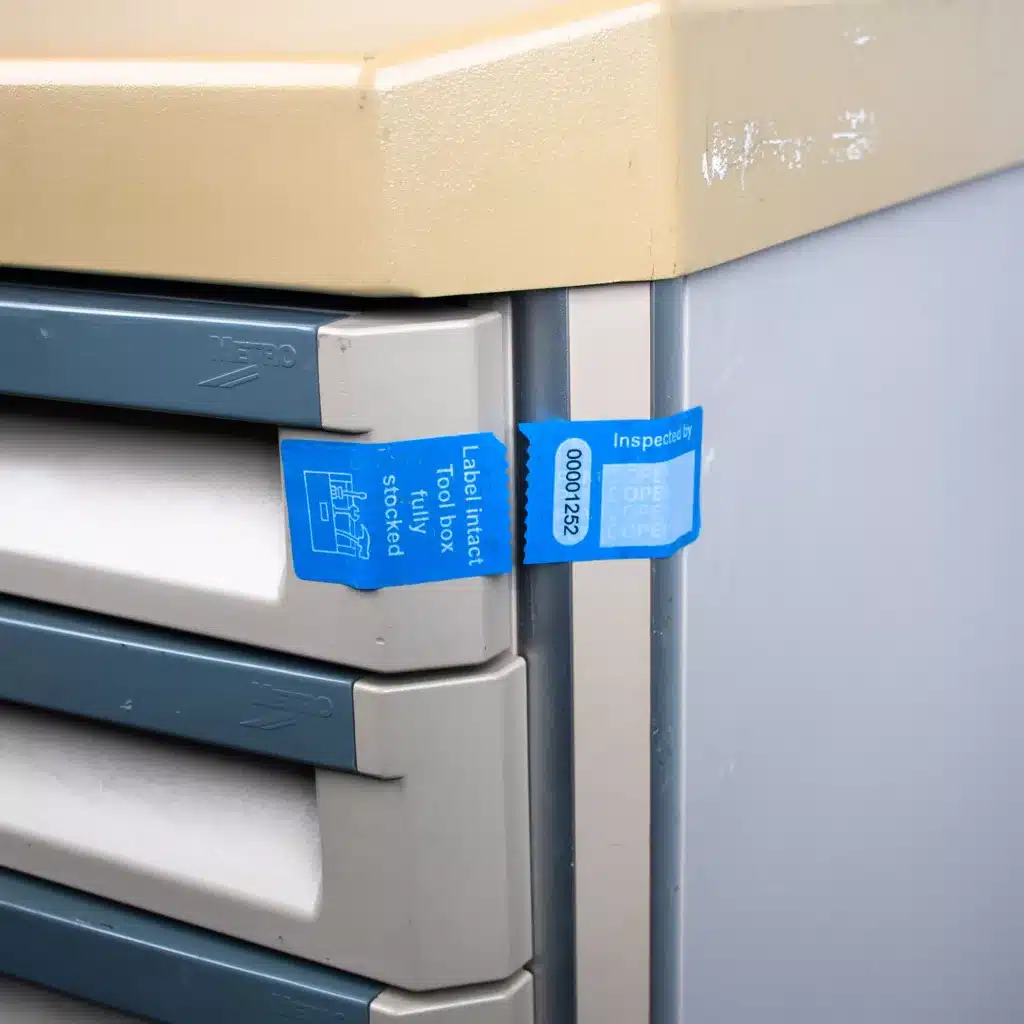 Tamper evident: Security cuts make it easy to see if a label has been tampered with. If the cuts are broken, it is clear that the label has been opened. This can help to deter tampering and protect the contents of the trolley.
Durable: Security cuts are durable and can withstand the rigors of movement and handling. This means that they are less likely to be damaged during transit, which can help to ensure that the tamper evident property is maintained.
Cost-effective: Security cuts are a cost-effective way to add tamper evident protection to labels.
Reduced liability: Security cuts can help to reduce liability for businesses by making it easier to prove that a package has been tampered with. This can be important in the event of a customer claim on delivery.
Improved customer confidence: Security cuts can help to improve customer confidence by giving them the assurance that their packages have not been tampered with. This can lead to increased sales and repeat business
Tamper-evident labels are widely used to enhance security and ensure the integrity of tool trolleys. Labels are used to seal the draws and lids, providing a clear indication if unauthorised access has been attempted.
Simple to use security solutions from Tamper Tech.
Ready to elevate to real tamper evident security?
Contact us today and discover the unmatched protection of non residue tamper-evident labels.
Let's secure your products together!